Quality Window Treatments
Designer's Carpet One Floor & Home is your local source for not just flooring, but also window treatments! In addition to having a knowledgeable staff when it comes to flooring, they can also help you with window fashions. Change the look of your home with new window fashions that add style and functionality to your space.
We are a proud supplier of Shadeomatic, Canada's leading supplier of premier quality window coverings. We are excited to help you get your next project started, whether you are just looking for new window treatments, or need flooring too! You can count on us as your local window treatment retailer, knowing our sales professionals can help you find the best option for your home.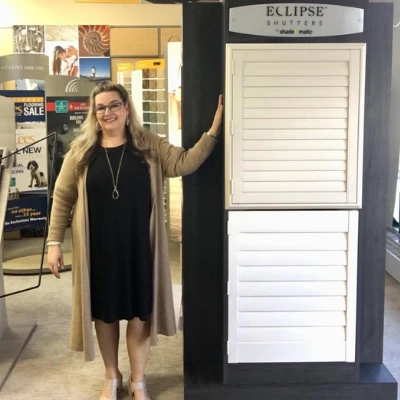 Benefits of Window Coverings
We have your local designers here, and they can help you find the perfect window fashions that also complement your current home decor. We can assist in narrowing down your selection to choose something that is right for your home and fits your personal needs. Window treatments are more than just a stylish option. Below are just a few of the different benefits of installing window treatments in your home.
An important feature of window treatments is their ability to protect your furniture and flooring from the sun. Your flooring and furniture are exposed to sunlight for most of the day, and can become damaged by the UV rays and will fade or start cracking over time. Save your investments from this unwanted damage by investing in window treatments.
Privacy is one of the many different selling points of window treatments. They help you to control who can see into your home and when. Our motorized treatments make it even easier to schedule when you want your treatments to adjust with just the press of a button. You can choose to control your treatments from a remote, your phone, or by using a smart home device.
Window treatments also help to insulate your home from outside weather. Living in a cooler climate, we know how important it is to keep our homes warm. Window treatments help to keep the warm air in your home, and proper fitting treatments will prevent drafts from entering your home. You can spend less on using heating and cooling devices in your home when you properly use window treatments!
What are the types of window treatments?
Our showroom features the following window fashions: blinds, shades, shutters, drapes, and motorized options.
Blinds - Made of wood, metal, or plastic, blinds are a great option for filtering light. Metal blinds are particularly easy to clean. Blinds give you the best control over light and privacy, and can completely block anything looking in from the outside.
Shades - For those preferring full darkness or extreme privacy, shades are a smart alternative. Some types of shades, including honeycomb shades, can actually help maintain indoor air temperatures. Shades are great for diffusing light into a soft glow in your space.